Christmas celebrations on Kieran Street, Thurs 8th December.
03.12. 2011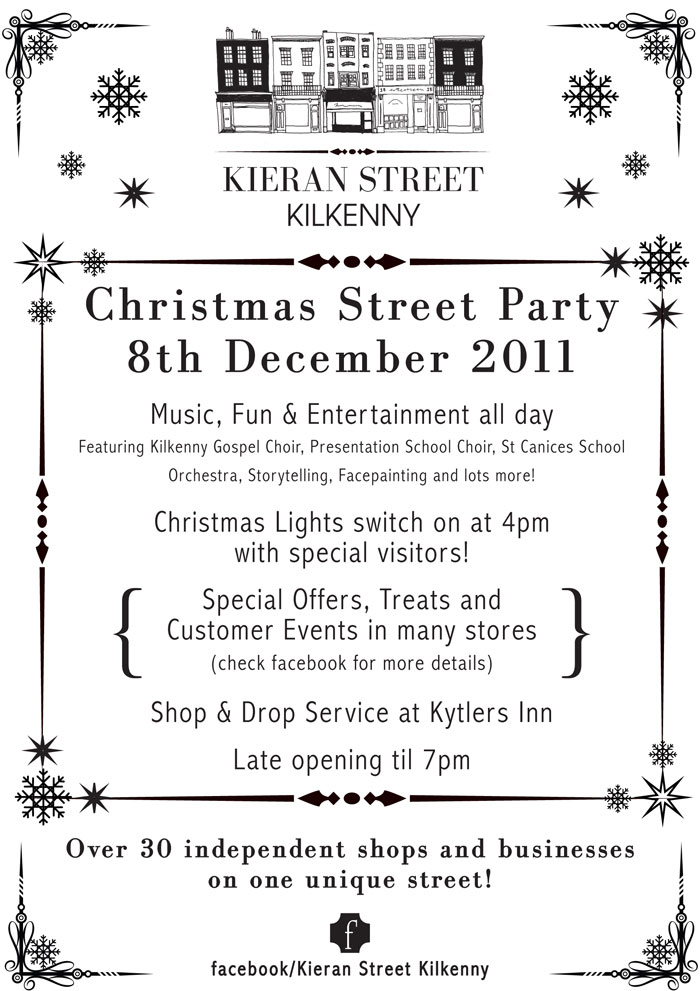 Next Thursday December 8, Kieran Street in Kilkenny will host its first Christmas street party.
This pretty pedestrianised street in the heart of Kilkenny is the perfect setting for a unique Christmas celebration and the Kieran Street traders are looking forward to a great day on Kieran Street.
To kick start the festivities there will be music and events throughout the day – along with a few surprises. There will be some fabulous music from the Presentation School choir, Kilkenny gospel choir, and St Canice's school orchestra among others.
At 4pm the Christmas lights will be officially switched on with special guests the Rose of Kilkenny, Sinead de Butleir; Mayor of Kilkenny, David Fitzgerald; and a special guest from the North Pole.
Throughout the day many of the shops and businesses on Kieran Street will have special offers and events so be sure to pop in to your favourite shops and see what is in store for you.
For the children, Stone House Books will have a storytelling of A Christmas Carol with face painting and fun for the little ones.
Kytelers Inn is offering a great shop and drop service — so for those who get weary from all the shopping — pop in for some refreshments or a bite to eat, and leave the bags (or husband) in a secure cloakroom for collection later.
Kieran Street alone has more than 30 independent shops and businesses, all of which have come together to make Christmas extra special this year.
It is up to all to make our city shine as brightly as it can, so be sure to come down and soak up the atmosphere and enjoy the fun next Thursday.
For more details check out Facebook/Kieran Street Kilkenny or send tweets to @KieranStreetKK