Monument to Kilkenny's hurlers will go ahead
23.09. 2011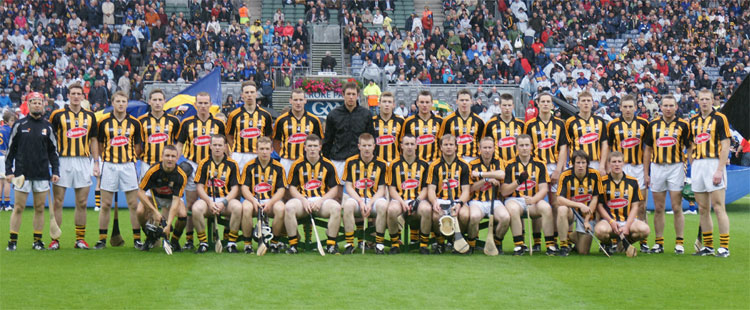 Kilkenny Advertiser, September 23, 2011.
By Sam Matthews

Kilkenny will erect a monument to the county's hurlers, as a tribute to the exceptional standard of hurling produced by successive Kilkenny teams over the years.
Speaking at a meeting of Kilkenny Borough Council this week, Mayor David Fitzgerald said that a committee had been organised to begin the project as soon as possible.
"I'm delighted as Mayor to be associated with this long overdue recognition of Kilkenny's hurlers," said Mayor Fitzgerald.
"This monument will acknowledge the significant role of hurling to our county, and the great contribution of the GAA and our hurling stars over many years."
Consisting of council chairman Paul Cuddihy, director of services John Mulholland, county board chairman Paul Kinsella, and Mayor Fitzgerald, the committee is tasked with the planning, design, and location of the proposed monument.
Funding for the project has been secured, following consultation with those involved in the Percent for Art scheme. With the completion of the M9 motorway, €150,000 has been set aside for an appropriate piece of public artwork.
There are a number of differing views on both the artwork's location, and what form it should take.
Cllr Joe Reidy, who first mooted the idea of a hurling monument in 2009 after Kilkenny landed the four-in-a-row, said the monument should be located in the city itself.
In the past, the Percent for Art scheme has seen artwork erected on or near the motorways from which they receive their funding, however the Parade in the city centre has emerged as a popular choice of possible location.
Former Kilkenny star and columnist Charlie Carter says that the monument is a great idea, and it should be located in the city.
"Something simple would do, with a plaque at the bottom," he said.
"But the important thing is that it would be for all the people involved in Kilkenny hurling."
The public and the borough councillors are also keen to have their say. Mayor Fitzgerald has agreed that the elected representatives would have an input into decisions regarding the project. However, he has also welcomed any suggestions or proposals submitted in writing from the general public.